Therapy Session
For audience, 2 speakers, 2 assistants and supervisor
40'
2018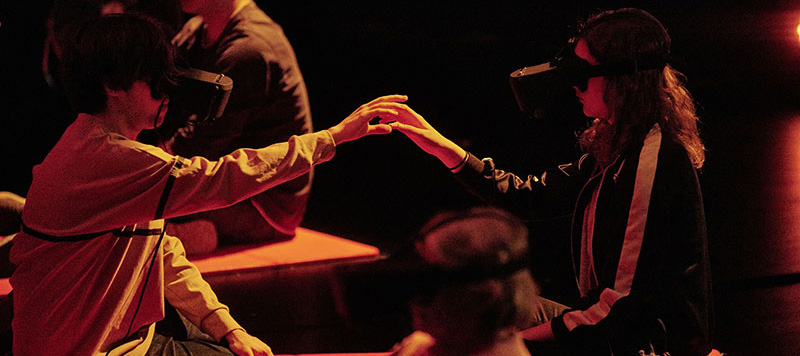 Program Notes:
English:
"A Perfect Circle" is a therapeutical group session that addresses self-awareness and embodied memories. It utilizes the technique "Projected Mapping" and has been described as "A bridge to Nowhere" or as "Nothing but a Shadow".
Through body interaction and continuity streams the participants engage in guided partner exercises. When eyes are failing, hands are supportive. When bodies are overwritten, we surrender. When we truly look in the eyes of our loved one, we opt out, and zone in. Continuity, dark streams, a snake eating its tail.
You stretch your hands out, the darkness sustains: True perfection has to be imperfect.
Deutsch:
"A Perfect Circle" ist eine therapeutische Gruppensitzung, die sich mit Selbstwahrnehmung und Körpererinnerungen beschäftigt. Sie verwendet die Technik "Projected Mapping" und wurde als "Nichts weiter als ein Schatten" oder als "Eine Brücke ins Nirgends" beschrieben.
Durch Körperinteraktion und Kontinuitätsströme beteiligen sich die Teilnehmer an geführten Partnerübungen. Versagen die Augen, unterstützen die Hände. Werden Körper überschrieben, ergeben wir uns. Schauen wir wirklich in die Augen unser Geliebten, so klammern wir uns aus und klinken uns ein. Kontinuität, dunkle Ströme, eine Schlange frisst ihren Schwanz.
Du streckst deine Hände aus, die Dunkelheit hält an: Wahre Perfektion muss unvollkommen sein.